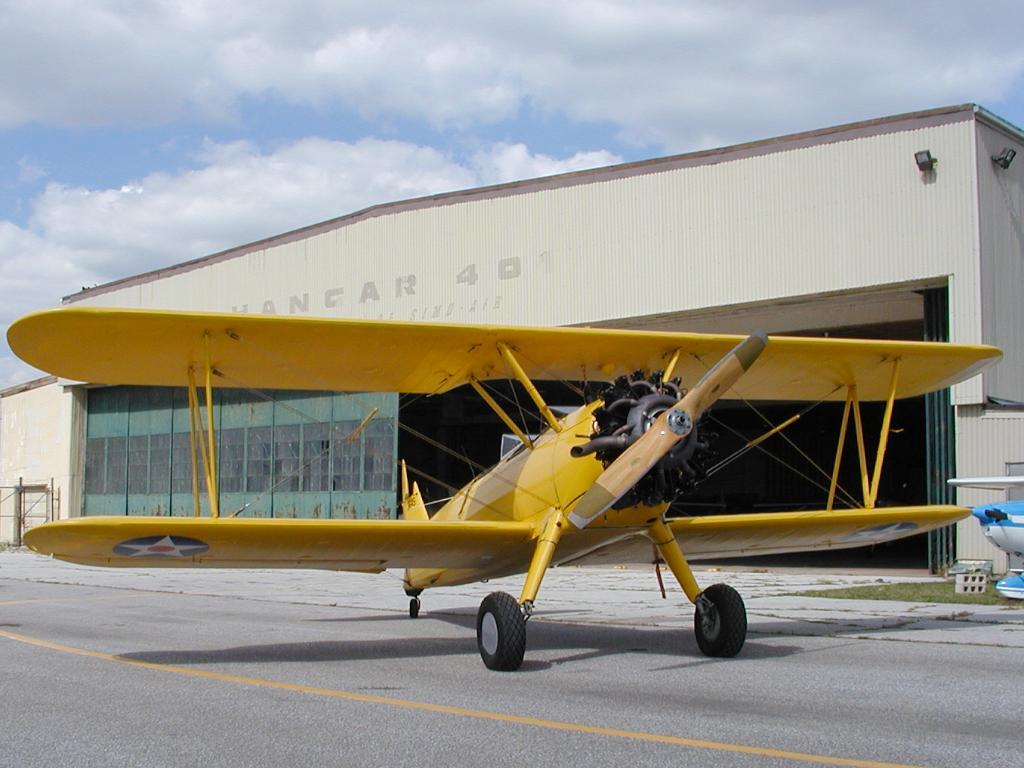 Aircraft Details
Manufacturer: Boeing Aircraft Company
RCAF Name: Kaydet
Manufacture Date: 1942
Length: 24 ft. 9 in. (7.54m)
Wingspan: 32 ft. 2 in. (9.81m)
Height: 9 ft. 8 in. (2.95m)
Basic Empty Weight: 1931 lbs. (878kg)
Max Take off Weight: 2,635 lb (1,198kg)
Wing Area: 298 sq. ft (27.7m2)
Crew: 2 – (1 student + 1 instructor)
Cruising Speed: 96 mph (83 knots, 155 km/h)
Max Speed: 135 mph (117 knots, 217 km/h)
Time Climb to 10,000 ft. (3, 050m): 17.3 minutes
Powerplant: 1 Continental R-670-5, 7-cylinder radial engine 220 HP (164 kW)
Aircraft Description
Originally introduced model 70 in 1933 at the height of the depression (precursor to the production of the Model 73)
Originally built by the Stearman Aircraft Co. of Wichita, Kansas
Developed as a U.S. Navy training aircraft (U.S. Navy ordered 61 Model 73 Stearman aircraft in 1934 after the approval of the prototype)
Advanced to Model 75 Kaydet Trainer when Stearman became a division of the Boeing Aircraft Company during WWII
Various versions of the Model 73 followed, with Lycoming R-680C-1 or Wright R-760-ET (J-6-7) engines instead of the original 220 hp Wright J-5 Whirlwind engine, as well as other minor improvements to the original deisgn
Various versions of the Model 75 followed, with a variety of engines, markings and design details although very little change is made to the original design after the firewall
300 were built and delivered to the RCAF with specialized winterizing features in 1942.
One aircraft was fitted with an enclosed canopy over both cockpits, but this feature did not catch on.
Model 76 was developed as an export version that included armament and engines in the 320-400 hp range
10,346 Stearman were built in total
Post war aircraft were converted for crop dusting and sprayers
Many Stearman are still flown today by private owners, air show pilots and restoration facilities like the CAM
Our Boeing Stearman leading the Yellow Birds Flight
The Stearman Aircraft Company became a division of Boeing Aircraft Company in 1934.
The story behind CAM's "US Navy" Stearman C-FAPG
CAM's beloved Stearman is our most sought after guest flight experience. It's the romanticism of low, slow flight on a sunny day over the countryside in an open cockpit biplane that does it. The big radial engine growls and the wires sing to the folks along for the ride, watching the earth go by through a frame of wings and struts, the wind tugging at helmets and goggles.
Stearmans are of American origin, designed and built in Witchita, Kansas, and ours is no different.  She was imported to Canada by a private citizen and came to us through the kindness of a benefactor along with the hangar she lives in, now CAM's home.  She was the first acquisition in our collection.
In her early days with us, she needed to be recovered in fabric as it does need to be replaced, oh, every 25 or 30 years or so. Most of the work was done by a local craftsman, but ten volunteers formed a team under his supervision to cover two of the four wings. We worked together a couple of evenings per week, learning how to glue and trim and iron and rib-lace. Rib lacing is a bit tedious and requires a partnership between two workers, one on each side of the wing hung vertically, to push the lacing needle back and forth through the wing and around the ribs, finishing the lace with a special knot. We usually had at least three pairs of us working on it, and once we got the hang of the knot, we were able to socialize.
The talk was of what she'd look like done. Now, this seems like it would be a fairly straightforward proposition of doing a bit of research to figure out the colour and markings that would be correct for the model she is. Turns out that during WWII the Stearman model N2S2 was only ever used for primary training at a naval base in Corpus Christi, Texas. We even found a photo of one in our research materials. N2S2's were yellow and had US Navy markings, clear as day.
What to do?
Stearmans were indeed very briefly used for training in Canada but were found to be impractical for a number of reasons, mostly because Stearmans are tricky to fly and we were washing out too many pilots too early because of it. So there is a Canadian paint scheme, yellow as all good training aircraft should be coloured, with Canadian roundels.
Back and forth, back and forth, just like the rib lace needles we were pushing, we talked and talked of what the right thing was to do, without consensus. We finished the covering, painted everything yellow, put her back together and still, months later, no consensus.
We finally had to make the decision, so we stood in a circle, ten of us, with our benefactor at the head of our group, and took a vote. You guessed it – five for US Navy, five for Canadian Air Force. The benefactor broke the tie, and there you have it. US Navy she is.
Perhaps it will come out differently the next time she gets recovered, which will be in the not-so-distant future…