Aircraft Details
Manufacturer: Canadian Car & Foundry
Serial Number: CCF4-173
Model: Harvard Mark IV
Civilian Registration: C-FVIJ
Length: 28 ft. 11 7/8 in. (8.8 m)
Wingspan: 42 ft. 1/4 in. (12.9 m)
Height: 11 ft. 8 ½ in (3.5 m)
Basic Empty Weight: 3,958 lbs. (1,795 kg)
Loaded Weight: 5,260 lbs. (2,385 kg)
Crew: 2 – 1 student & 1 instructor
Max Speed: 206 mph (331.5 km/h)
Cruise Speed: 180 mph (290 km)
Range: 730 Miles (1173 km)
Service Ceiling: 23,000 ft. (7010 m)
Wing Loading: 20.7 lb/ft2
Power/Mass: 9.5 lb/hp
Powerplant: Pratt & Whitney Radial 1340 AN-1 Wasp
Aircraft Description
Trainer type – used during WWII and many years afterwards
Flown by pilots who had graduated from EFTS #7 and moved on to Service Flying Training Schools.
Advanced trainer which provided retractable landing gear, much higher performance and advanced handling characteristics to prepare pilots for transition to combat aircraft
Coin in center of propeller hub (oil drain plug) shows the date and country (US or Canada) that the plane was manufactured in.
Our Harvard was built in 1952 at Canadian Car and Foundry in Fort William. ON – one of 270 built there for the RCAF and were ordered to fulfil Canada's obligation to train pilots from the NATO countries)
Purchased by the museum in the fall of 2014 from a private owner.
A total of 20,110 Harvards were built between 1938 and 1954, 3,370 of them in Canada. Countless numbers of privately owned Harvards are still flying today.
Our Harvard served in the RCAF from August 1952 to November1966 and thereafter was registered as a civilian aircraft.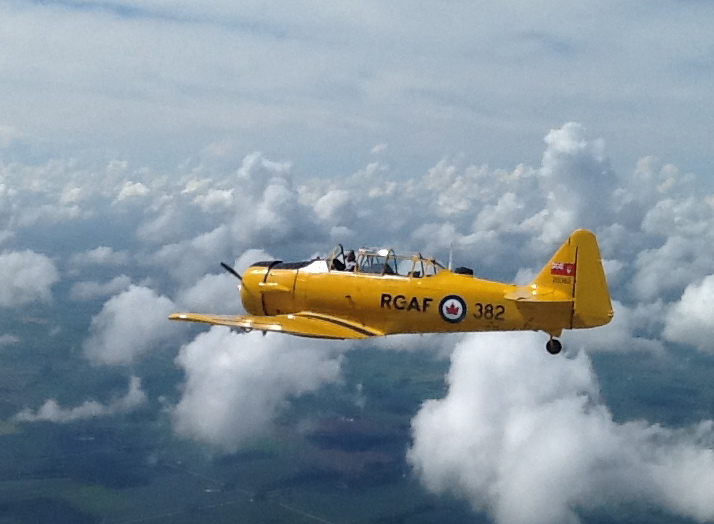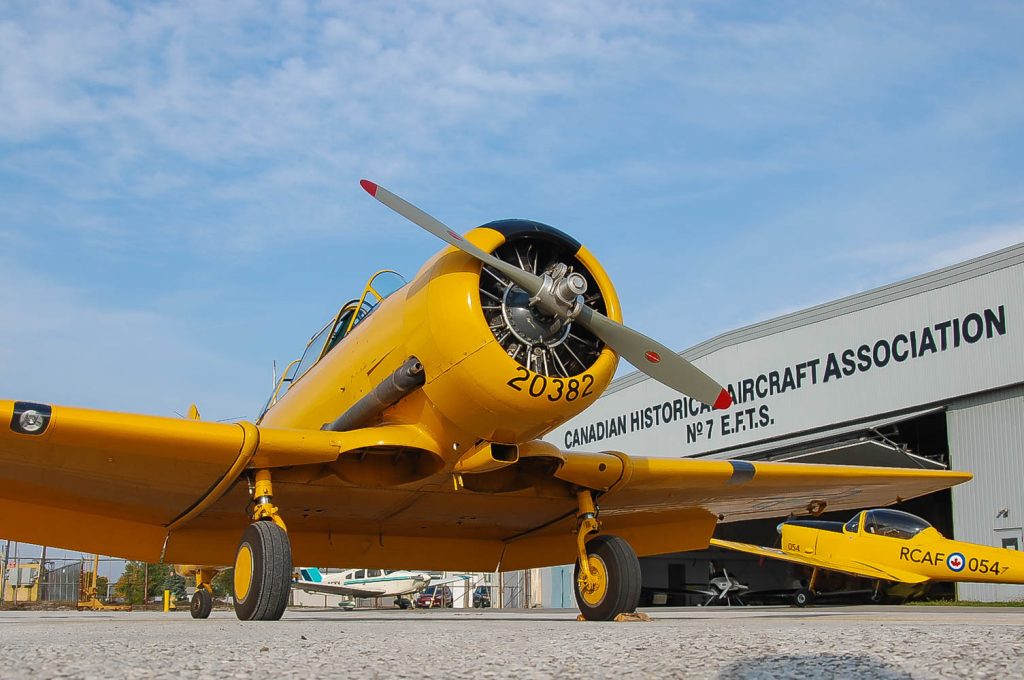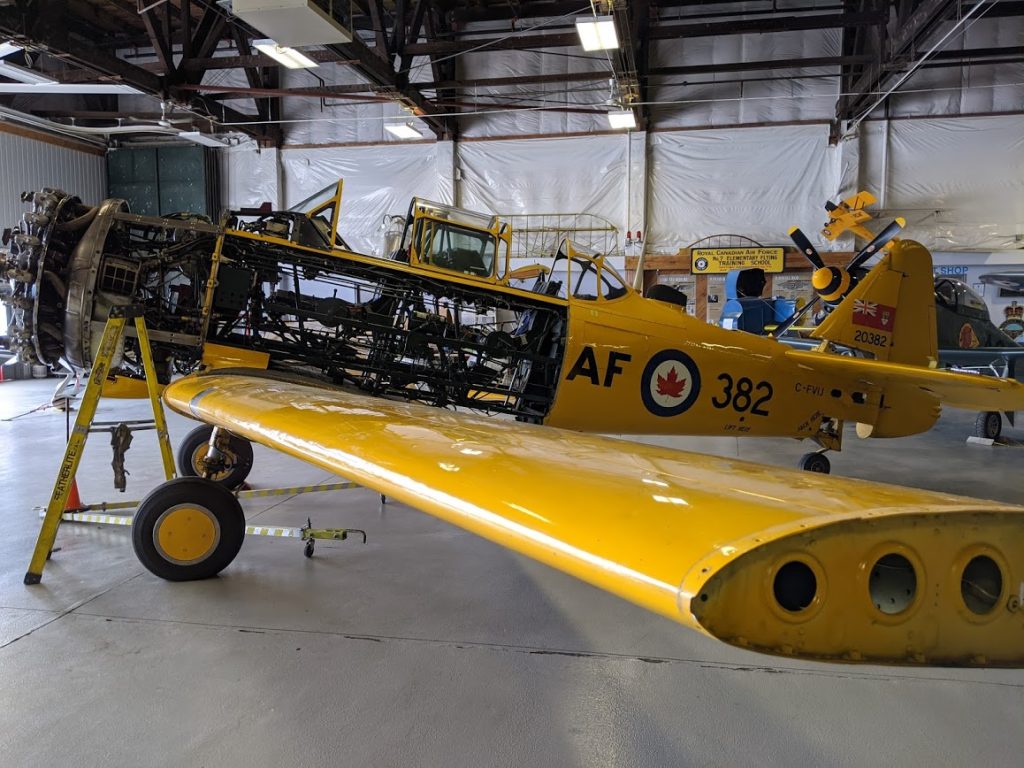 North American T-6 / Harvard
The North American Aviation T-6 was a single-engine advanced trainer aircraft used to train pilots of the United States, Britain, and Royal Canadian Air Force and other air forces of the British Commonwealth during World War II and into the 1950s. Designed by North American Aviation, the T-6 is known by a variety of designations depending on the model and operating air force. The USAAC designated it as the AT-6, the United States Navy the SNJ, and British Commonwealth air forces, the Harvard, the name it is best known by outside of the US.
The Royal Air Force initially ordered several hundred T-6s with British instruments and radios, in 1938. The British coined the name "HARVARD" for it. (by which name it would become known in all the commonwealth countries….except for Australia, where it was called the "WIRRAWAY") This version retroactively became known as the MK I.
Beginning in January, 1940 The HARVARD MkIIB version was built under license by NOORDYN of Montreal, Canada for the Royal Canadian Air Force, the RAF and the USAAF. Ultimately 2,557 Harvards were built in Canada.
After the war the MK IV version was built by CANADIAN CAR AND FOUNDRY. All in all, some 21,342 aircraft of the NA-16 series were built.